STRANDER'S SANITARY SERVICE, LLC
has been providing quality sanitary service to the Lodi, Wisconsin area since 1978.
ABOUT STRANDER's
Strander's Mission Statement
To serve our customers with honesty, integrity and professionalism.
To serve our customers effectively and treat them as we personally would like to be treated. We want to give our customers the most value oriented source for product and service while still maintaining a profitable company, where our employees can grow and prosper.
Max Hamilton
Max is the good son that takes care of cleaning portable restrooms both at the shop and at events. Max power washes each unit before it goes out and makes sure the units are stocked with hand sanitizers and toilet paper. Max also helps out with the septic side by helping dad in the big truck by pulling hose and operating the field equipment during disposal.
Marc and Debra Hamilton
We are the owners of Strander's Sanitary Service and proud to be able to have the privilege to work with this truly amazing staff. With them we are able to bring you the most professional, dependable, clean, prompt sanitary service in the area. Please feel free to give us an opportunity to show you how much each and every customer means to us. Whether it is a single restroom, a large wedding party or a sewer backing up into your basement Strander's will be there to help get your situation resolved. Please give us a chance to earn your business…you won't be sorry.
Richard "Rick" Wolff
Rick has been with Strander's Sanitary Service, since 1991. Both a Wisconsin certified septic "master operator" and a certified POWTS maintainer, he is our main large truck waste hauler and can most always be found in a tank truck. Rick knows how to handle all aspects of our work operation. He is a dependable and honest employee, and we are very fortunate to have him.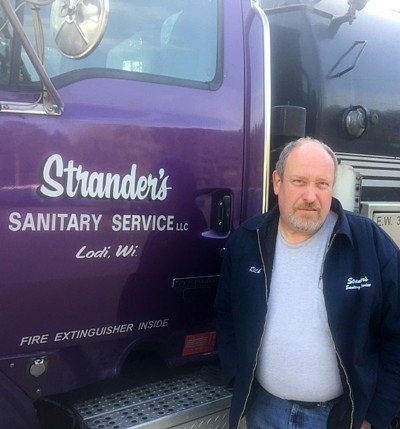 Shane Burdine
Shane has been with Strander's Sanitary Service since 1993. Shane wears many hats; mainly he is our go to guy for all septic maintenance. He will hydro-jets laterals and blockage's, clean filters, install risers, pump grease traps, is certified to enter a confined spaces, etc., etc. Shane also sets up, services and breaks down special events and helps with routes and deliveries as needed.